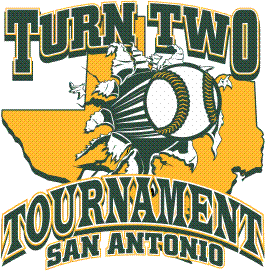 Welcome to Turn Two Tournaments , home of competitive baseball for ages 15 thru 18, in San Antonio and around our great State of Texas and host of wooden bat, metal bat and bat of choice tournaments throughout the summer and fall.
Turn Two Tournaments is very happy to announce that it has been chosen to be a part of the evaluation process for the USA Baseball National Team Identification Series (NTIS). Each and every tournament will be scouted to provide players the opportunity to be a part of this very wonderful organization.
USA Baseball is the national governing body for the sport of baseball in the United States and is a member of the United States Olympic Committee and the World Baseball Softball Confederation. The organization selects and trains the World Baseball Classic, Premier 12 and Pan Am Teams. Please click on the link to learn more about the USA Baseball program.
Our venues are first class and are professionally maintained before, during and after each tournament. The field crews will drag and water as well as work the pitcher's mound and home plate area before each and every game.
Our officiating crews are second to none, comprised of the top high school umpires and college umpires who have Division 1 and Division 2 experience.
Turn Two's goal is to offer an opportunity for players to compete in a competitive setting where they can improve their level of play while making a positive influence on our youth for the future….and to give them the opportunity to perform in front of college coaches of all levels in an effort to help them make that step to the next level.
We believe we offer an avenue to use baseball as a vehicle in our youth's quest to obtain a college education.